8x42 Tactical Pack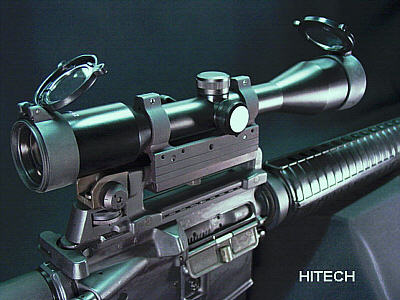 Order on line or just call (248) 369-8350 and talk to our friendly and knowledgeable staff !
Click here to go to AR Cart or just give us a call !

Feel confident that when buying HITECH™ products that you are buying the very best !
There's much more to look at with HITECH™ Optical Shooting Systems
than we like talking about !

Every time we develop a new design or patented specification, sooner or later - some other "company" attempts
to manufacture a close or near copy. (Over the years this has kept our legal staff extremely busy)

The mere fact that others have attempted to follow us in several areas of design
and product development speaks volumes...

Virtually all HITECH™ manufacturing and development processes are patented and/or held proprietary and/or secret at the company. And virtually all HITECH™ Optical Systems hold world wide and U.S. Patents!
Specifications and recommendations:
Description:

Part #

__________Recommendation:____________
6x42 Tactical Optical Shooting System
( LL - MF - MC - NF - LLR - OPH - WP - TS ) (see optical key)
_SC0139_
Best for Wide Field - Tactical
on Multiple and Moving Targets.
8x42 Tactical Optical Shooting System
( LL - MF - MC - NF - LLR - OPH - WP - TS ) (see optical key)
Recommended by PC Martel for ultimate long range performance)
_SC0138_

Best for Tactical - Long Range target
identification and Bench Resting.

3x9x42 Tactical Optical Shooting System
( LL - MF - MC - NF - LLR - OPH - WP - TS ) (see optical key)
_SC0137_

Best for Vriable Magnifications.

Optical key:
LL = low light gathering
MF = military finish
MC = multi-coated
NF = nitrogen filled
LLR = low light reticule (low light bracketing system)
OPH = one piece SLT Dynamic 1 inch diameter housing
WP = water proof
TS = tactical specification