The Ultimate AK Optical System - complete with HITECH Battle Pack 8 x 42 Scope
Package includes everything you need for your AK except the rifle. Comes pre assembled,
pre zeroed at our factory using our unique and patented laser zeroing fixtures. Ready to go
"on paper" - straight out of the box! Virtually fits them all perfectly with no gunsmithing.

All Units are inspected, tested and certified to be absolutely perfect just prior to shipping from
our factory - then shipped directly to the customer!
AK47- Chinese, Egyptian, Bulgarian, Romanian, Russian, Yugo AK'S - Fits them all perfectly!
This is not cheap imported junk you have may have seen in the market place - This is American ingenuity at its best
and the system that works! Your AK can now shoot sub one inch groups at 100 yards with this system all day long!



Package includes HITECH 8 x 42 Optical Battle Pack completely assembled as pictured
and ready to function flawlessly under the most extreme conditions.
Also included is a 500 yard trajectory and range finding map and all
instructions plus a Life Time Warranty.
Total Cost of Package $ 522.00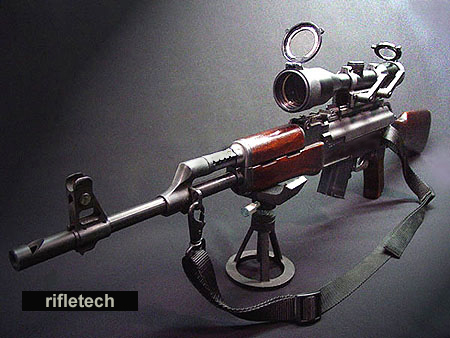 Click here to see other images.
Extraordinarily fast targeting!
Sub - 1 inch 3 shot groups guaranteed !
Lowest profile system in the world for AK's
Fastest "out of the box assembly" system in the world.
Ultimate platform - lock down unit constuction with no movement !
Patented design that outperforms any other design - guaranteed !
When packaged with Battle Pack scope as shown above - units are pre assembled, inspected,
tested, and certified at our factory just prior to shipping to guarantee customer satisfaction!

Unobstructed see thru view of iron sights for left & right shooting as well as "coming over the hill shots".
Now maintains less than 1 minute of angle accuracy at 100 yards/meters - Guaranteed!

To Purchase:

Click here and pick # 3 to purchase complete system (Battle Pack).

Thank you!