Back to previous page
Engaging unit could not be simpler - just slide onto our patented
rail system and unit will automatically stop in locked position.
To remove unit just reverse the process - it's just that simple!
One of our office clerks (Claire) was asked to install
the unit onto one of the companies AR15 HBAR's
Claire was asked to use two fingers only - to demonstrate
the ease of use when installing the unit! This is the (PS0139) Type 3
which is set up lever-less for ultimate connection speed and simplicity.
The HBAR AR 15 pictured below is "bone stock - out of the box" -
with the HITECH under rail system installed. This particular rifle
systematically shoots at the company sub half inch - three shot groups at
100 meters/yards using factory ammo! Ultimate accuracy is continuously
maintained using our innovative system.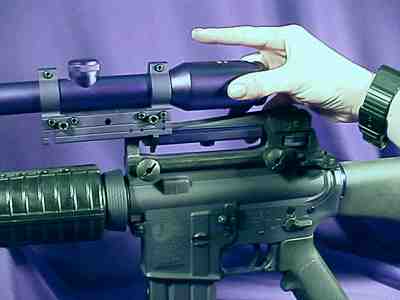 Optical unit easily connects to our patented rail system at the
forward end of the carry handle as shown above. This innovative
rail system (double Weaver style on both sides) configures to
the outside of the carry handle which provides for maximum
stability without blocking iron sights.


The HITECH system incorporates state of the art design and manufacturing
processes with ,all accuracy and performance maintained to the extreme!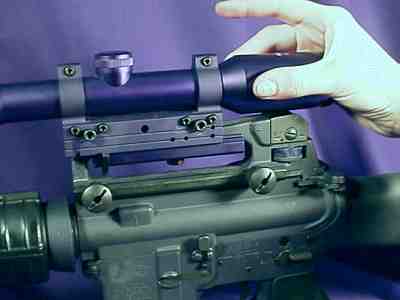 Unit engages and slides along a patented double Weaver style rail / double track
as the user pulls reward on the patented optical unit as show above.
Since their is no reason to remove our HITECH Under Rail - rifle is
always ready to accept optical units instantly with total
rezero and accuracy control!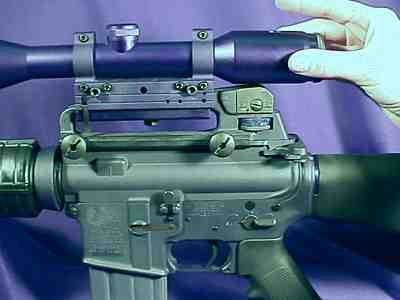 Unit engages automatically into locked position while the user
pulls reward as shown above. Removal is just as simple as
rifle person releases lock then slides forward until unit
disengages from rifle.
(Claire - Thanks for your help!)