Free shipping with every order!

Your First Name:

Email Address:

Daytime Phone Number:

Your Offer:

Very impressive set of dueling pistols and fine walnut case - .44 Cal. This is a very accurate old reproduction set of dueling pistols that are totally functional! Barrel lengths are 10 1/2 inches. The style is French - Henry Lapage - and quite ornate with many features you can no longer find in old reproductions. Each pistol retains perfectly carved and figured European walnut half stocks and both match beautifully. Silver inlay work on all metal parts including hammers. Locks are inscribed with the date 1871. All accessory items are totally functional as well and are beautifully done. Both pistols are in perfect mint condition and have never been fired! Proof marks galore on left side of barrels and both pistols are serial numbered. Powder flask is silver plated with brass fittings. Blue velvet lined case is inlayed with brass wire with brass inscription plate top center and locks with silver plated skeleton key. Octagon barrels are fully fluted and silver inlayed with front and rear sights attached. Mechanically very tight with triggers tuned in at a perfect 2 lbs of pull each (We checked it). We did not check the barrel twist but its is probably 1 in 17. Comes with 44 caliber balls in compartment - percussion caps in wooden jar compartment - and a flask full of powder! This is no doubt a rare and impressive dueling set! One of the best we have ever seen!

APPRAISED VALUE $ 2950.00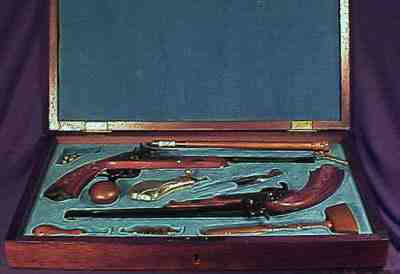 ..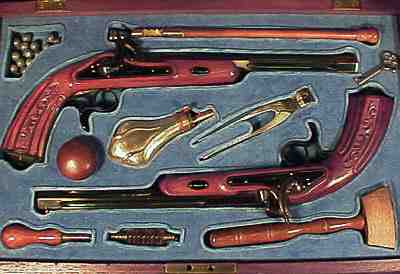 ..
.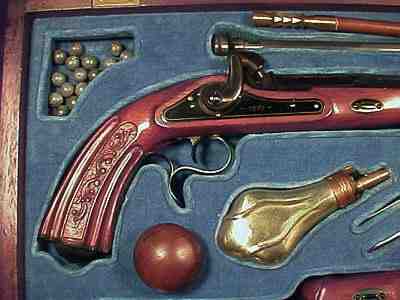 ..

.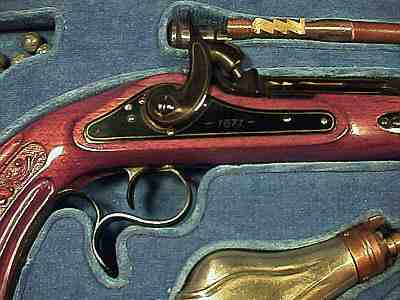 ..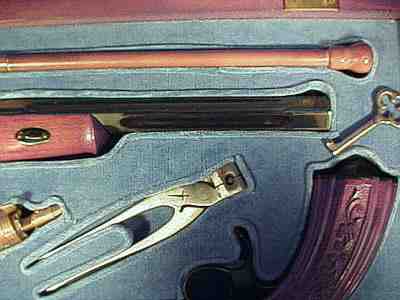 Our Policy:
.Our three day inspection on all items policy guaranties customer satisfaction! All items are shipped United Parcel Service - Insured - with tracking number. We pay for shipping and insurance to and from your location and make all arrangements for pick-ups and delivery via United Parcel Service. Customer pays a very small percentage of total price on returns only to cover our cost - 10% no exceptions!