Free shipping with every order!

Your First Name:

Email Address:

Daytime Phone Number:

Your Offer:

European Sword bayonet - of very good detail (Circa 1850 to 1872) - Blade 23 inches long with perfect blade except at the end which has a minor amount of pitting on 1 inch of tip - Pommel and guard of brass - This is a totally authentic Sword bayonet of the period and has all the original fittings that would configure to a rifle of the time period (Probably for a French Chessepot) - Blade is a very impressive - bright tempered steel - Very shiny and smooth but never polished ( Photos do absolutely no justice to blade - it's truly fantastic looking) Guard is stamped with serial number and blade is stamped near guard - also has an inspector's mark stamped on blade as well as one other spot on guard - Also along spine of blade near guard is inscribed with the words "St Etienne 8 bre 1872" - Bright tempered steel blade is of the heavy design and has very deep fuller (blood gutter) - over all near perfect condition. Scabbard is in perfect shape and is not numbered. This sword bayonet is perfect in every way except minor pits as described above. A very valuable collectors piece!
..
APPRAISED VALUE $ 250.00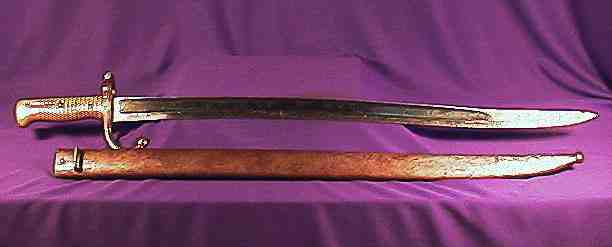 .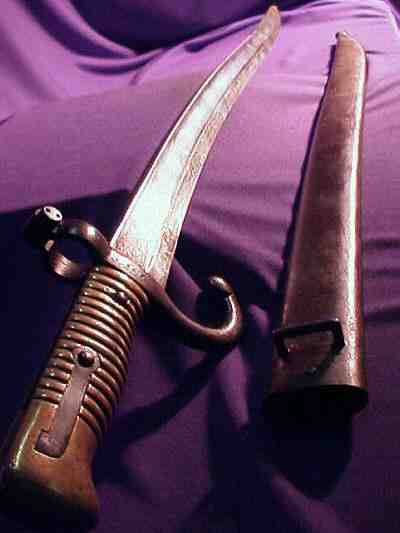 OUR POLICY
.Our three day inspection on all items policy guarantees customer satisfaction! All items are shipped United Parcel Service - Insured - with tracking number. We pay for shipping and insurance to and from your location and make all arrangements for pick-ups and delivery via United Parcel Service. Customer pays a percentage of the total price on returns only to cover our costs - 10% no exceptions!
..