Free shipping with every order!

Your First Name:

Email Address:

Daytime Phone Number:

Your Offer:

AK Quick Disconnect Optical System - 8 x 42 Scope - All New in Box - The most versatile system in the world for the AK family of rifles. A proven technical master of wizardry has now become the ultimate standard for AK's. Sportsmen and competitor of pin-point accuracy alike can now enjoy the most advanced - most accurate - most stable - quick-disconnect system in the world ! Shown below on the AK47S - unit works incredibly well on any make or model AK and all other variants (including the Bulgarian, Chinese, Yugo's and Egyptian). Package includes HITECH 8 x 42 Low Light Scope ( with Low Light Bracketing) - HITECH QD Mount (Fastest in the World) - All instructions - A 500 yard trajectory map on request - A 500 yard range finding map on request. All Instructions plus a Life Time Warranty on all parts and labor ! Package includes everything you need for your AK or variant except the rifle. Comes pre-assembled as shown below and virtually fits them all except AK's that came originally with folding stocks. Unit can be instantly taken off an put back on at any time within seconds! Absolutely no gunsmithing necessary! Free AK Shock Wave Muzzle Brake is included
with this offer!

.
APPRAISED VALUE $ 522.00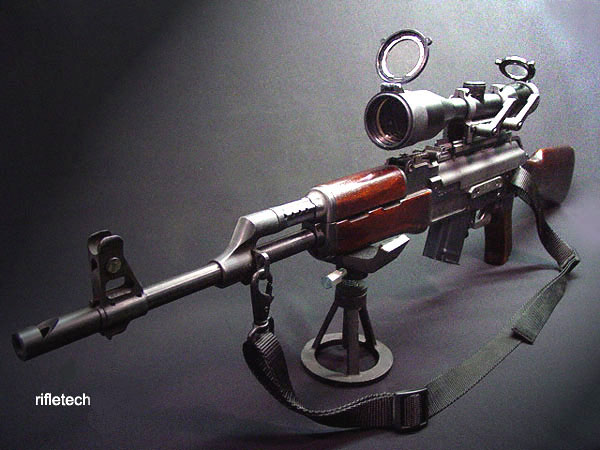 Simply slides on and locks down, re-zeros perfectly right on!
.Lowest profile system in the world for AK rifles.
Fastest "out of the box assembly" system in the world.
. Instant re-zero (1/8 " at 100 yards / meters)
Patented design that is second to none in commercial markets
Retracting levers for 360 degree positioning. (Very fast and very user friendly!)
Our Tactical Systems are pre-assembled at our factory as shown!
Unobstructed see thru view to your iron sights for a clear 100 yards/meters shot!
Guaranteed - (Sub 1 inch 3 shot groups at 100 yrds./meters are all day long!)
Maintains less than 1 minute of angle accuracy at 100 yards/meters!
.
OUR POLICY
Our three day inspection on all items policy guarantees customer satisfaction ! All items are shipped United Parcel Service - Insured - with tracking number. We pay for shipping and insurance to and from your location and make all arrangements for pick-ups and delivery via United Parcel Service. Customer pays a percentage of the total price on returns only to cover our cost - 10% no exceptions!
..