Free shipping with every order!

Your First Name:

Email Address:

Daytime Phone Number:

Your Offer:

This item is currently at auction !! Click HERE to view this auction.
Click here for more images and description
Exquisite and Very Ornate Baltic Flintlock - Circa 1810 to 1850
Exquisite and very ornate Baltic flintlock - Circa 1810 to 1850 - This is a fully functional flintlock pistol representing the transitional period between fine European wood work and fine Eastern metal work as a development of bigger loads and heavier recoil would split wood! Silver bronze stock with high relief floral pattern throughout - makes this a truly eye grabbing museum piece that is very rare - indeed ! Fully functional lock and frizen with half cock - over all pistol is in excellent working condition and totally pristine. Barrel is deeply engraved along sight radius area and shows 90 percent of the original Fleur-de-lis pattern on the top of the barrel - Makers mark along left side of barrel but otherwise unsigned - Overall length 16 inches and weighs considerably more than most ( 2 lbs. total weight ) due to addition silver bronze full stock and muzzle shroud which surely added to its handling ability. A unique, very fine, and enchanting 58 Caliber flintlock pistol !
APPRAISED VALUE $ 3400.00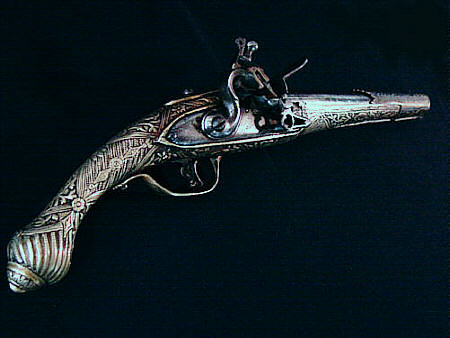 .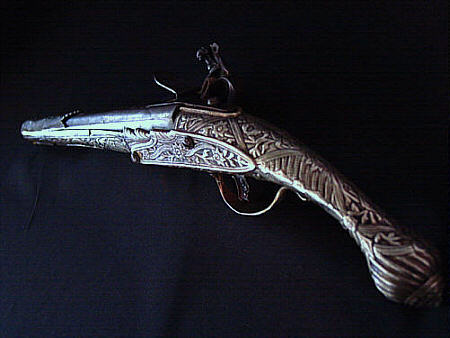 .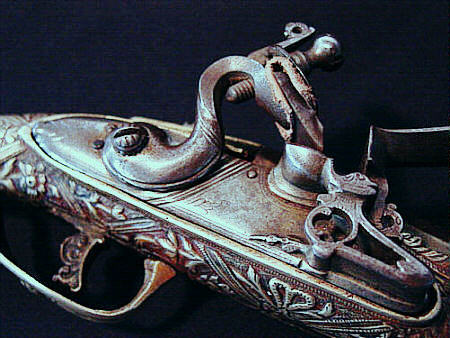 .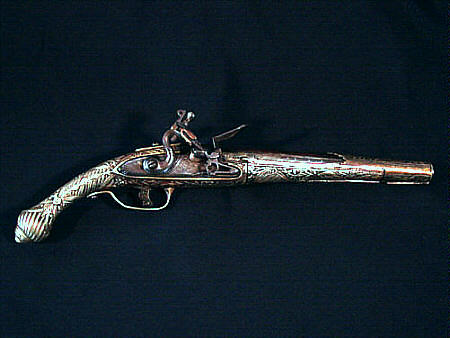 .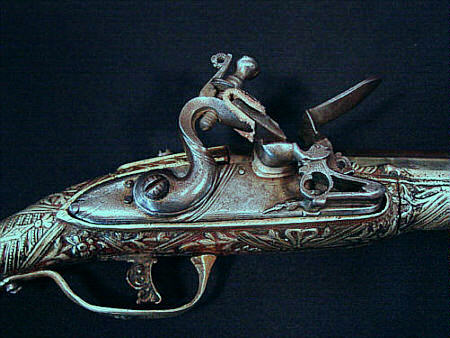 .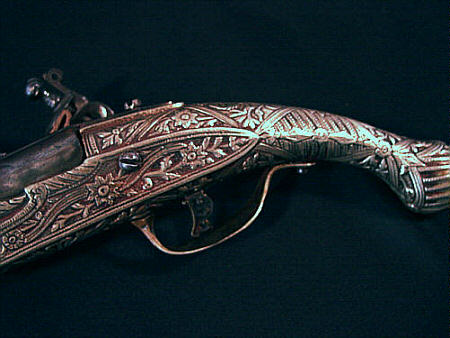 OUR POLICY
Our three day inspection on all items policy guarantees customer satisfaction! All items are shipped United Parcel Service - Insured - with tracking number. We pay for shipping and insurance to and from your location and make all arrangements for pick-ups and delivery via United Parcel Service. Customer pays a percentage of the total price on returns only to cover our cost - 10% no exceptions!
..
.